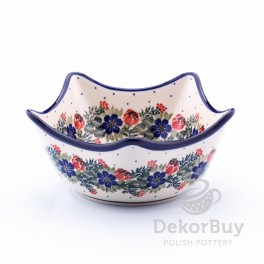 Subcategories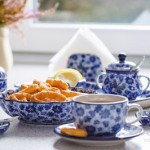 Start your day with Bolesławiec pottery
Everybody knows that a good breakfast is the basis of a good day. Crispy bread, fresh cottage cheese, aromatic coffee makes you more eager to jump out of bed. And what if that breakfast was also served on beautiful tableware? Imagine golden honey dripping from a finely painted spoon, the smell of black coffee from a squat mug or original cup, and the breath-taking smell of scrambled eggs served on a unique dish made especially for you. Are you hungry yet? Why don't you pamper yourself a bit with adequate tableware to serve your breakfast? Turn each morning into a small feast. Sit at a table with your family and enjoy your meal served on hand-painted dishes. With Bolesławiec tableware from DekorBuy, you sandwiches and eggs will taste like never before. Discover unique butter dishes, plates, cups, cutlery and many other products.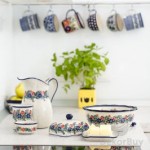 A dinner fit for a king
No wonder the dinners held by king Stanislaus August Poniatowski every Thursday were called "wisdom dinners". During those four-hour long feasts, guests discussed matters relating to arts, literature and science. Consequently, the Thursday dinners significantly influenced the 18th century art. Little has changed since the first dinner held in the Blue Palace in 1770. Nowadays, a dinner is still the main meal for many of us, during which we can gather in a group of family or friends and discuss important matters while savouring the food. At DekorBuy, we offer you beautiful hand-painted pottery products, whose fineness has been renowned and admired for years. As the manufacturing method has not changed for centuries, we can guarantee that our products offer the highest possible quality. Plates, bowls or soup tureens painted and stamped by hand will make your table fit for a king. DekorBuy pottery will make you feel like royalty!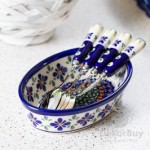 <h1>Brownie, fondant or cream puff? Everything tastes great with DekorBuy!</h1>
<p>In a lively Polish film entitled Marriageable Girls (Dziewczyny do wzięcia), a group of girls abandons their home villages for the big city in search for love; they begin their adventures with a large bowl of Sultan's cream each. Well, the old saying that the way to a man's heart is through his stomach has never been more accurate. For all gourmands and lovers of all things sweet we have prepared some dessert inspirations which will help you win the hearts of many guests. At DekorBuy, you may compose your own set of dishes which will make your afternoon tea with homemade apple pie or delicious ice-cream even better. Do you need dessert plates or cutlery? Or perhaps, new cups? You will find everything at our store! Visit our online store or our shop in Krakow, at ul. Sławkowska 11. We will be more than willing to help you compose your perfect dessert set.</p>