Subcategories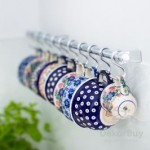 A folk-themed wedding gift
Are you looking for a perfect wedding gift, but everything seems too banal? Do you think dinner sets have gone out of fashion? Create your own unique pottery set and watch the delighted faces of the newly-wed! With DekorBuy, you will find that a set of plates does not have to mean boring shapes or patterns. We offer mugs, bowls, plates and even small decorative items in various sizes. Forget the gilded china. Bolesławiec pottery combines beauty with functionality – what more could you wish for when starting a new life together? In our store, you can compose your own set of hand-painted dishes according to your own taste. As the products we offer are unique, you have the guarantee that Bolesławiec pottery is truly one of a kind. We will help you create a wedding gift which will make the newly-weds remember the happiest day of their lives for many years.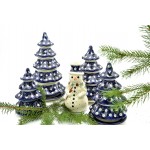 Out of ideas for holiday presents? DekorBuy will make it easy for you!
Holidays are a magical time for all of us. We wait all year to smell the Easter cakes and to taste the Christmas food. But holidays are not just the period of happiness and family time, they also require much work. We try to make our homes as well-prepared for guests as possible, we lose ourselves in cooking holiday meals and in cleaning the most hidden parts of the house. In this race against time, we often forget to buy presents and decide to choose last minute gifts before our family arrives. At DekorBuy, you will find unique pottery products for your friends and family, available for purchase all year. As our products combine beauty with functionality, you may be certain that shopping at our store is the right choice to make. Create one of a kind sets which will fully meet you expectations.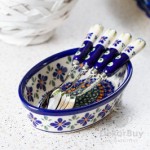 A folk-themed gift? Why not?
There is no greater pleasure than to give presents to the ones you love. Their happiness makes up for all strife and problems of everyday life, and their thanks make our hearts beat a little bit faster. Express your feelings with a unique present that would make the recipient feel special. A gift can also be functional. A beautiful bunch of flowers or a box of chocolates is nice, but sometimes we need something more, something that would stay with our loved ones for years. Such a gift could be Bolesławiec pottery from DekorBuy! We offer you 100% hand-made products which are highly durable and beautifully painted in folk style. Folk is in fashion, therefore we believe that with our vast choice of plates, cups and spoons you will find a perfect gift for your family and friends. Check out our products!